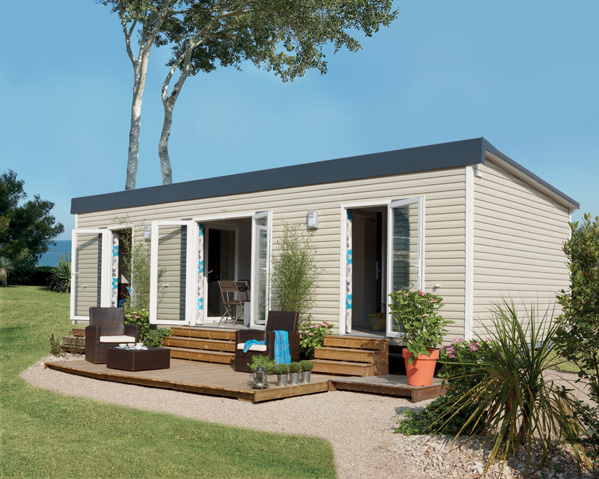 PLAISIR' Range
A radically new style. The Plaisir range offers a choice of 2 to 4 bedroom holiday homes, featuring internal space of up to 37 m² with the Otello model. A wide choice of set-ups, including models with verandas!
The PLAISIR' Range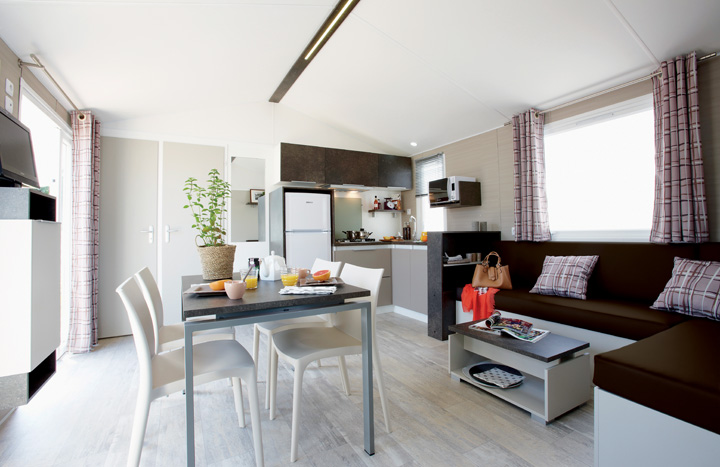 OPTIMA' Range
Welcome to the world of Mobil-Home Rideau. Space and comfort, residential quality and generouslysized models. Comprising 5 models, the Optima range stands out for its dimensions: from 8.45 m to 9.35 m in length. Easy to live in, with average interior areas of more than 31 m², and up to 36 m². Choose from a range of five soft furnishing...
The OPTIMA Range
PRESTIGE' Range
All three Prestige top-of-the-range models are spacious, offering interior areas of between 36 and 40 m². Models in the 2013 collection are 50 cm bigger than the Excellia two and three bedroom models. And in terms of ambience, shades of beige and red are dominant, with faux suede soft furnishings!
The PRESTIGE' Range
With an average of 1,400 new mobile homes every year, and a turnover of 20 million euros in 2011, Mobil-Home Rideau is one of the leading French manufacturers of mobile homes.
Mobil-Home Rideau, a subsidiary of the French group Aluminium Rideau, has been present on the mobile home market for 15 years. The company manufactures mobile homes for private individuals and professionals. Located between La Roche-sur-Yon and Les Sables-d'Olonne, in the Vendée department, Mobil-Home Rideau boasts a growing reputation. Founded by Gustave Rideau, a former Compagnon du Tour de France (journeyman) with 37 years experience in the veranda and conservatory market, the company and every member of its personnel are fully committed to providing the best possible solutions to the requirements of Mobil-Home Rideau customers.
Today, Mobil-Home Rideau is positioned as a pioneer manufacturer in technical innovation and design. Our latest models have received several awards, all of which officially recognize the expertise of our outstanding R&D department.